FRIDAY, DECEMBER 7, 2007
I had no idea how long it was gonna take to get out of Mesa AZ. I guess when you're in a hurry things that take a long time take even longer. My brother Bill had gotten out of Arizona state hospital, but was never the same. Once a powerful force in my life he now appeared to have been stripped of all dignity. He was timid and unsure of himself like a dog who'd been abused too much. It was the worst thing I remember about being a kid the day I watched through the wire mesh glass on the iron door at the state hospital. Two orderly's dressed in white hauled him away like a sack of potatoes from my view.
He was altered there, too many shock treatments. It was the old days of mental hospitals much worse then now. They didn't use much care in the application of electric shock therapy back then. They just wired you up and turned on the juice and bingo you were half a vegetable. I hated my mother for doing this to him I hated her for a long time. I just couldn't understand how you allowed that to happen to someone you loved. But over time I have learned that she was a victim as well of those times. She lived in the era when women barely had rights, hell they had to have a husband just to get credit and even then it wasn't their own. So over the years I have understood more clearly how that event troubled her as well.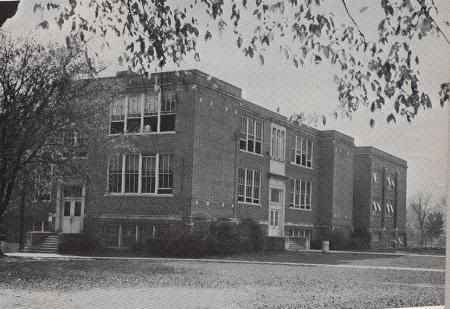 Hoover High In Glendale, California
By 1962 I was enrolled as a junior at Herbert Hoover High School in Glendale California. The only persons I knew in Glendale, other than my family, was a girl I'd met and her brother who lived across the street from us. I was a fish out of water and knew it. The lingering southwestern cowboy environment I'd come from hung on like an ill fitting jacket. It was obvious to people as soon as I started talking. This became my training ground for reinventing myself lock, stock, and barrel. I learned to talk different, walk different, and look different than I had when I'd first arrived. I wanted to fit in and I was ashamed that I didn't. The last thing I wanted was for anyone to associate me with any redneck background so I dressed like a surfer.
You may be surprised to know that the first record I ever made was called "LET'S SURF" on Jolum Records in 1963. In my days at Hoover High the biggest thing going was surf music. like Dick Dale And The Deltones. Shortly thereafter it was The Beach Boys, Jan And Dean, and some Chubby Checker. Two years later I would be the opening act for all three of these artists. But in the meantime I had a lot of crap to go through.
Like every other teenager I thought I knew everything right then and there. I was just 17 years old and barely starting my life, but in my mind I had already been through the ringer. Family mental illness, failed marriages, and harsh surroundings had done their damage. Coupled with forced down your throat religion, multiple schools, towns, and fathers and I was kind of confused to say the least. Once again in my own mind music was the only thing that offered any hope to me of ever making my life any better than it had been in the past. It had been and still was the only thing I believed that I could do well.